Ski Your Way Into Summer: A guide to glacier skiing
High up in the French Alps the snow has not stopped falling, but is this of any interest as we wave goodbye to winter?

Yes! Between the months of June and August you can trade in your swimsuit for your ski's and enjoy the summer sun as well as your snow sport of choice.

Summer skiing is ideal should you want to work on your skills and techniques to welcome in the new winter season. The late snowfall we are seeing will provide excellent conditions up high on the glaciers to see you through the summer months.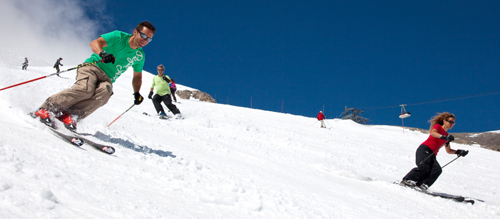 Tignes and Les Deux Alpes offer some of the best glacier skiing during the summer, where you can enjoy a full mornings ski followed by a relaxing afternoon soaking up those rays.
Tignes is also home to one of the most innovative water parks 'Acroland'. So if sunbathing isn't your thing, spend the afternoon at the 25 hectare lake in the heart of the resort and try out the 'The blob Jump', the 'Lake jumping ramp' or the 'hot jumping slide'. Think we have gone mad? Take a look at the video below or visit the website at Tignes.net.



See below for the summer skiing opening times:

Tignes Glacier
June 27th - July 3rd:
4 ski lifts are open: Funicular + Cable car + Vanoise & Rosolin chairlifts.
Skiing area open between 7.15am and 1pm (last lift down for the funicular: 1.30pm)

July 4th - August 9th:
Glacier lifts are open (depending on the snow conditions)
Skiing area open between 7.15am and 1pm.

Les Deux Alpes Glacier
20th June - 29th August 2015:
7.15am to 12.30pm every day, depending on the period.
(Please note: The Glacier opens for skiing on 13th June but the first week is only accessible to registered Ski Clubs). 
Piste:
90 skiable hectares on the glacier
Lifts: 
16 ski lifts (2 chair lifts, 7 ski lifts, 2 gondola, 1 funicular, 2 rope tow, 1 cable car, 1 lift)
Slopes: 
11 runs (4 blue, 2 green, 2 red)

Extras:
A large snowpark with 2 half-pipes, hips quarters, boarder-cross, grind bars and jump modules plus music and barbecue.