School Holidays: The best dates to take the family away on a ski holiday
When booking your family ski holiday, it is not only UK school holiday dates that you need to consider. School holidays in France and the rest of Europe can also affect the price you pay.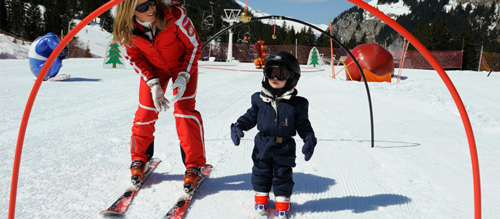 French school holiday system
Interestingly, France operates a different system to the UK in terms of setting its school holiday dates. Whereas much of the UK school holiday dates are the same across the year, with the occasional regional variations, holidays in France are set according to different geographical zones. There are three zones; A, B and C and generally the school holidays are set differently across the three zones. This system works very effectively and reduces demand for holidays across the different dates, which helps keep prices down. Some people are calling for a similar system in the UK. It will be interesting to see if this is implemented.


2014 School Holiday Dates

This year, UK February half term (15/02) clashes with Zone C in France and some other European countries. This makes it an extremely popular and busy week in the French Alps, with very high demand for ski holidays.

Comparing this to Easter 2014 school holiday dates, UK holidays run from Saturday 5 April until Sunday 20 April. The first week of the Easter school holidays does not clash at all with France and the second week (12/04) only coincides with Zone C. This makes the Easter school holidays an excellent opportunity to access family ski holidays at exceptional value and in some cases, up to 50% off compared to half term pricing. Not only this, but the resort and pistes will be markedly quieter than other dates.


Looking ahead to 2014/15 school holiday dates

It's never too early to start thinking about next year's ski holiday. Here are the all-important school holiday dates 2014/15 to help you in your planning:


UK Main Scheme

Christmas School Holidays
Sat 20/12/2012 – Sun 04/01/2015 (starting 13/12 for some private schools)

February Half Term
Sat 14/02/2015 – Sun 22/02/2015

Easter School Holidays
Sat 28/03/2015 – Sun 12/04/2015 (until 18/04 for some private schools)

Let's compare these dates to the 2014/15 French school holiday dates.


France (and Europe) School Holidays 2014/15

Christmas School Holidays
Zones A, B and C: Sat 20/02/2014 – Sun 04/01/2015 (same as UK and every other European country)

February Half Term
Zone A: Sat 07/02/2015 – Sun 15/02/2015
Zone A + C Paris: Sat 14/02/2015 – Sun 22/02/2015 (same as UK plus Belgium & Holland)
Zone B + C Paris: Sat 21/02/2015 – Sun 01/03/2015 (plus Holland)
Zone B: Sat 28/02/2015 – Sun 08/03/2015

Easter School Holidays
Belgium: Sat 04/04/2015 – Sun 12/04/2015
Zone A: Sat 11/04/2015 – Sun 19/04/2015 (plus Belgium)
Zone A + C: Sat 18/04/2014 – Sun 26/04/2015
Other European countries: Sat 25/04/2015 – Sun 10/05/2015

Zones include the following cities:
A: Caen, Clermont-Ferrand, Grenoble, Lyon, Montpellier, Nancy-Metz, Nantes, Rennes, Toulouse
B: Aix-Marseille, Amiens, Besançon, Dijon, Lille, Limoges, Nice, Orléans-Tours, Poitiers, Reims, Rouen, Strasbourg
C: Bordeaux, Créteil, Paris, Versailles