New All-Inclusive Ski Holiday in Samoens
A brand new, all-inclusive French Alps ski holiday close to Geneva Airport has been added to the Peak Retreats programme for 2017!
All-Inclusive Ski Holidays
After recently announcing that our programme has grown to include all-inclusive holidays in the French Alps, we are excited to offer a new all-inclusive accommodation opening in Samoens in 2017! The luxury ski-in/ski-out hotel will offer 360-degree views across the Grand Massif valley and mountains, doorstep skiing and fantastic facilities for families of all ages.This is one of the most exciting projects we have come across in the French Alps in recent years!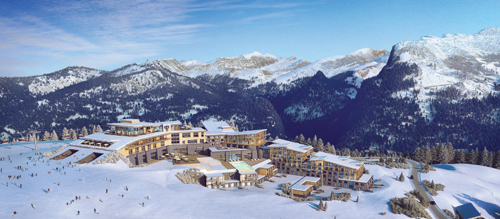 Samoens All-Inclusive: Artist impression

It will be set in a superb location allowing guests direct access to the slopes from the ski equipment room! Included in the price is a lift pass that covers 5 stations: Samoens, Morillon, Les Carroz and Flaine, plus a natural ski park in Sixt Fer a Cheval. As the Massif slopes are ideal for beginners while the slopes at Flaine are better suited for intermediate and experts skiers, the Samoens property is suitable for every type of skier – including families of mixed abilities.


Samoens All-Inclusive Bedroom: Artist impression

Samoens is one of the more convenient locations in the French Alps for UK travellers, whichever way you decide to travel. Samoens is just a short drive from Geneva Airport, the motorway and the train station.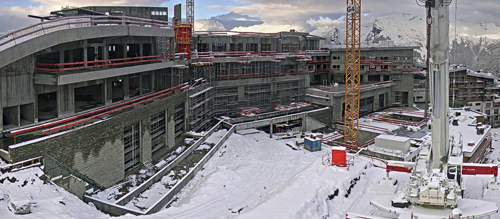 Building in progress at Samoens. Photo: Samoens webcam.

Around 25 million euros is said to be being invested in piste and lift infrastructure at Samoens to reduce lift queues. Changes to lifts include changing where you can board/depart, replacing old lifts with newer models and a new embarkation zone. Major earthworks are said to be going ahead, creating a new plateau for a smoother transition between Samoens, Morillon, Les Carroz and Flaine. It is suggested that the budget will also be spent on new pistes, new snow cannons, and a new multi-functional building for seasonnaires, an ESF sales office, a picnic hall, ski lockers, public toilets and a lift pass office.



The new all-inclusive Samoens accommodation opens in December 2017. With a low deposit of just £100 we'll secure your preferred week and room type ahead of our official launch later in January, offering you our best possible early booking prices and a date in the diary to look forward to. Plus your deposit is fully refundable should your plans change.